Biopharmaceutical Werewolves in Lost & Found: Dance, New York, HIV/AIDS, Then and Now, commissioned by Danspace Project, November, 2016.
Hunter Reynolds: Documentation As a Practice of Survival on the Visual AIDS Blog, September, 2015.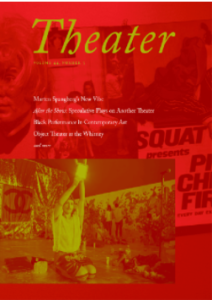 A Proposal for Props in Yale's Theater, volume 44 number 3. Excerpt of paper is included "Post-Show Theater" section, a transcript of a panel organized by Robert Quillen Camp and Gavin Kroeber at the Martin E. Segal Theatre Center at the CUNY Graduate Center in October, 2013.